When I picked up Blue Sky, White Stars on a whim this summer, I was so taken by its representation of the American experience. The words of Sarvinder Naberhaus and the illustrations of Kadir Nelson included so much of what we love about our country. From the Grand Canyon to an old front porch, we can find pieces of America everywhere. In the young boy who goes to a baseball game and in the woman who stands on a graduation stage. In the story of Betsy Ross and the history of Abraham Lincoln. There is so much to celebrate about who we are and who we can be as a nation.
This month, the Diverse Books Club read Blue Sky, White Stars. When both adults and children submitted questions, author Sarvinder Naberhaus generously agreed to do an interview. We find hope and inspiration in her words, and we know you will, too!
---
Did you have an intended audience for Blue Sky, White Stars? Who do you hope will read the book?
Great question! My original intended audience is always picture book age children. However, when this book was finished, I also felt it was just as much for adults. I always feel picture books are appropriate for all ages. Everybody loves reading picture books. I think they are for all ages, don't you?
Do you have a favorite page in the book?
Yes, I love Abraham Lincoln's face with each worry and burden, every fallen soldier etched in the lines of his face.
What inspired you to write about freedom when there are so many topics to write about? -Alexa, Age 11, 6th Grade
I don't always get to pick my ideas. They come to me, and I usually like them, but I can't always make them work for the length of a picture book. I was able to come up with enough ideas to make this 32 pages. I feel my ideas pick me.
It's so important to represent diversity in a book about America. I feel that it was done exceptionally well in Blue Sky, White Stars. Did you carefully place specific characters on particular pages or leave it all in the hands of the illustrator Kadir Nelson? – DBC Member Jeanell
The nice thing about having Kadir Nelson as an illustrator is that you don't have to tell him to represent diverse people. That being said, when I pictured the illustrations, I did picture different groups of people. I had revised it to include Sacagawea but I was too late in sending to my editor, so maybe she will have to be in my next book. I also wanted to include George Washington and the farmers of the Dust Bowl. I did try to represent a diverse group of people since that is who makes up America and I did write it with that in mind.
What does this book mean to you personally? – Miguel, Age 11, 6th Grade
It means a lot of different things to me. As an American, it represents freedom and the height that freedom can take us (to the moon). As a writer, it means that all my hard work and dedication was worth the years of toil and trouble.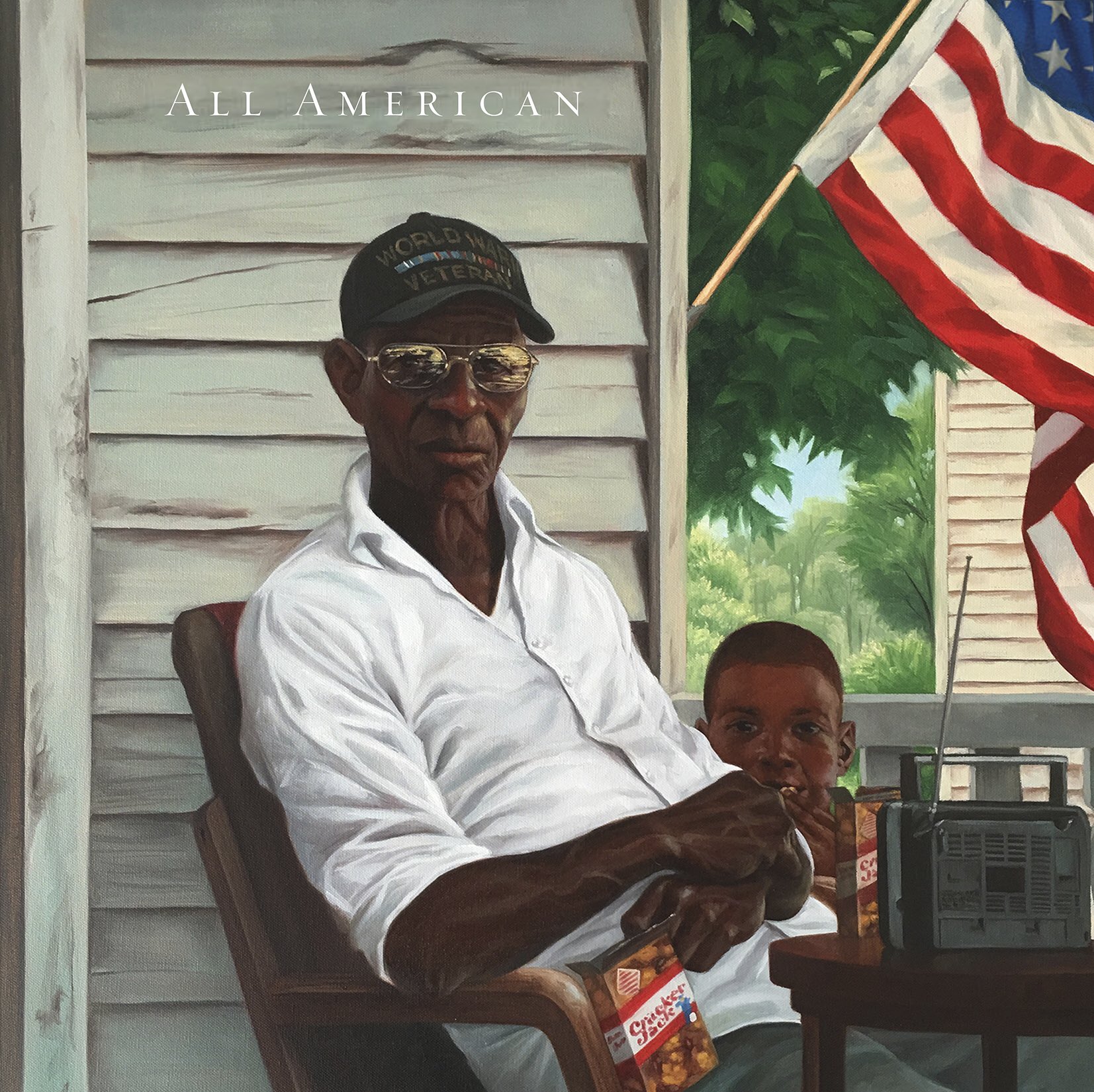 What was going through your mind and how did you feel while you were writing Blue Sky, White Stars? – Aricin, Age 12, 6th Grade
When you write something, you have no idea if it will get published. As a matter of fact, I didn't even have an agent when I wrote it, and it got a few rejections until my editor took interest. So you never write it expecting it will get published or that anybody will ever see it but you. At the time you are writing, you are just thinking about the story and trying to write it all down as fast as you can so you don't forget it. I thought it was a pretty neat idea when it came to me, but the words were so few, I knew I would have to include a lot of illustration notes so people would understand what I was talking about. I wrote the illustration notes right along with the words.
What effect do you think it would have if every classroom read this book? – Alexandria, Age 11, 6th Grade
I do hope every class will read this book. I hope they enjoy it. I hope it stirs something within them – whatever their America means to them. My hope would be that we could heal as a nation and come together and love one another. I actually want to ask you that same question. What effect do you think it would have?
---
To connect with Sarvinder online, you can visit her blog at http://sarvinderauthor.blogspot.com/ or follow her on Twitter at http://twitter.com/SarvinderN. Thank you so much, Sarvinder, for sharing your thoughts with us!