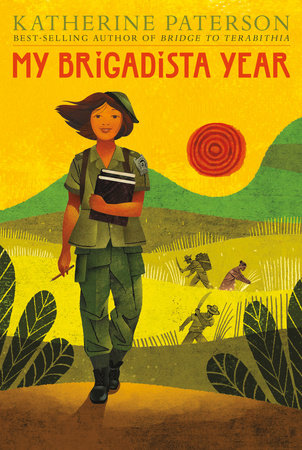 Did you know that in 1961, 100,000 Cuban youth between the ages of 10 and 19 left school and moved to the countryside to serve as literacy teachers? Did you know that their work raised the literacy rate in Cuba from between 60% and 76% to 96%?
I didn't, either.
Historical fiction is one of my favorite genres, but in taking a closer look at the books I've read, most of my historical fiction reads tend to be about American history or European history. I was so excited to read the Katherine Paterson's latest title, which takes place in Cuba in the 1960s.
Lora, a thirteen-year-old from Havana, decides to leave the only place she's ever called home in order to serve as a literacy teacher in the countryside. Her journey requires leaving the comforts of home behind in exchange for demanding physical labor and no electricity access. While in the country, she lives with two host parents and their three children. Luis Santana, the father, simply wants to learn to write his own name so he no longer has to sign with an "x." Having a brigadista in the household, however, may bring danger to the Santana family and to Lora herself.
While the Cuban Literacy Campaign came about under the rule of communist politician Fidel Castro, whose administration oversaw numerous human-rights abuses, the mission of the brigadistas was to bring education to everyone regardless of class. The experiences of the main character in the book represent the experiences of tens of thousands of volunteers who left their homes in order to serve their country and the ideals they held true.
I learned so much about Cuban history from My Brigadista Year, and I am sure this book will drive interest in a fascinating time period of Cuban history.
Classroom Connections
This middle grade title discusses the transfer of power before the administration of Fidel Castro. It may pair well with The Rooster Who Would Not Be Quiet! and other tales from Carmen Agra Deedy. Deedy is a children's book author who arrived in the U.S. as a Cuban refugee in 1964, just three years after the events of My Brigadista Year.
---
My Brigadista Year will be released in October 2017 by Penguin Random House.
Note: I received a digital Advanced Review Copy of this book from Penguin Random House in exchange for an honest review. All opinions in this review are my own. Thanks for reading!